Our Pastors –
Revs. Scott and Carol Custead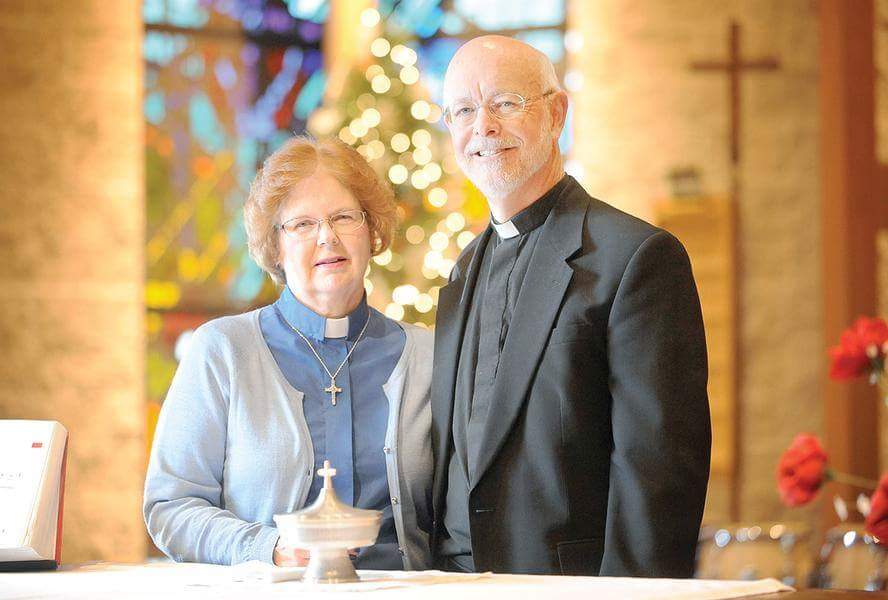 Pastors Carol and Scott Custead met, and were married in 1979, while they were students at Pacific Lutheran Seminary in Berkeley California. Pastor Carol had graduated from Gustavus Adolphus College in St. Peter Minnesota. Pastor Scott had graduated from the California State University at Northridge. Prior to retiring in May of 2015, from pastoring at Mount Calvary Lutheran Church in the Richland area of Johnstown, they had served together as pastors at St. Mark Lutheran Church–a rural church just north of State College, and then for 22 years at Zion Lutheran Church in Hollidaysburg, Pennsylvania.
They have two grown children and two grandsons.  Their daughter, Linnea, is married and living in Marquette, Michigan. She and her husband are both medical software consultants.  Their son, Ryan, is married and has two sons, Tristan (age 9) and Killian (born in May, 2017).  His wife teaches French and English at Conemaugh Township Sr. High School.  They live in Hollidaysburg where Ryan now serves full-time as the Youth Ministry Director at Zion Lutheran Church.
Pastor Carol was the youngest of three children. She grew up in Mankato, Minnesota. Her father was an ear, nose, and throat doctor with the Mankato Clinic. Her mother was in charge of the pre-kindergarten vision and hearing screening in the Mankato school district.  Her parents both died during the summer of 2012. They were in their late nineties and were living near her brother and his wife in Duluth, Minnesota.
Pastor Scott was the younger of two children. His father, who died in 1999, drove a city bus in Los Angeles, California. His mother continued to live in the home in which Pastor Scott grew up until the untimely death of his older sister in 2010.  It then made it necessary for her to move to Richland Woods in Johnstown to be near him and Pastor Carol, her daughter-in-law.  She enjoyed 14 months near them and befriended several other residents! She died in the spring of 2012.
Pastor Carol brought a love of music, youth ministry, church camping, and retreats to her ministry. She has enjoyed the opportunities to serve the broader church by serving on the Board of Directors of Camp Sequanota, leading seminars on Confirmation ministry, coordinating Confirmation Camp at Sequanota, leading spiritual retreats, and working with youth and young adults.  In the past, she served the community by serving on the Blair County Children and Youth Services Advisory Board and Hollidaysburg School District Safe Schools Committee.
Pastor Scott brings a love of administration, teaching, and strategic planning to his ministry. In the past he has enjoyed the opportunities to serve the broader church as an Army Reserve Chaplain, chairperson of the synod's Finance Committee, member of the synod Candidacy committee, and occasional teacher at Mt. Aloysius College. He had also been a panel participant in the Blair County Interfaith Dialogues. He now serves on the Finance Committee of Camp Sequanota.
It has been their joy in marriage and ministry to share in serving the Lord, Jesus Christ. Since September of 2015, they have been supplying as worship leaders and preachers around the Allegheny Synod.  It is their joy now to be growing together in devotion and prayer, and as Disciples of Christ, with the people of St. James and the greater Blair County community.