Our Pastor –
Vice Pastor Drew McCaffery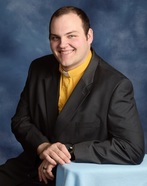 Hello Friends, my name is Pastor Drew McCaffery. Some of you may recognize me from Bethany Lutheran (your neighbor on 3rd Ave) or from the brief times I have be at St James for other assorted events. For the next extended period of time, I will be serving as a Covenant Pastor. For those unsure what this title means, it means that I will be joining you for worship, council meetings, and providing assorted pastoral care duties for our members. My first official Sunday, in person will be on December 4th and I hope to be able to meet many of you. My hope during this time is to get to meet you, learn some of your history with St James, and listen to where the Holy Spirit continues to call us. I will be doing this also as an extension of my duties and responsibilities at Bethany Lutheran, hopefully this will give some     opportunities for future partnerships.
For those wanting to know at little about me, I have been in the Altoona area since Summer of 2015 when I was called to serve with Bethany Lutheran. I served for a year and half with the people of Simpson Temple United Parish until they prayerfully transitioned their ministry to other ventures in 2021. My wife, Pastor Amanda McCaffery, currently serves at St Luke's Lutheran Church in Roaring Spring and we have a 14 year old fur baby named Levi (may also go by the name "Vicar Levi" or other names depending on the story).
I look forward to experiences we can share together.
Peace
Pastor Drew